CSS Aeonix Dispatch Console – Respond Faster, Resolve Better
The Aeonix Dispatch Console allows organizations to rapidly respond to incidents, emergencies, and facility events, and supports interoperable communications among users of all devices (wherever they are located). It also provides control of remote extensions through an easy-to-use on-screen interface.
The Aeonix dispatch console allows the dispatcher to communicate with one or more peers (in pre-defined or ad hoc conferences) with a click of a button. By adhering to open standards, dispatchers can also view live feeds from critical nodes on the network (manned/unmanned) using Pan-Tilt-Zoom controlled CCTV cameras. All the calls in the dispatch system can be recorded and stored for future analysis and review.
The console is implemented as an HTML 5 Web Application and runs from within a desktop web browser or from a portable device such as a tablet or a smart phone.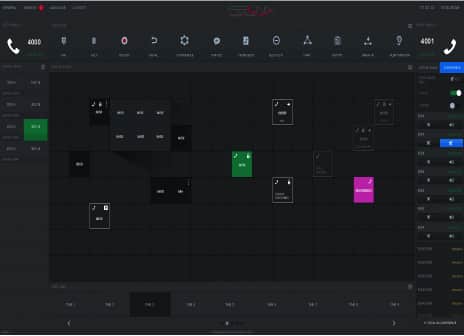 Key Features
Revolutionary UI design
Touch screen dispatch console
End Point Status (Presence)
Group Division of users
Priority Answer
Silent Monitor
Visual alerts to Dispatcher
Voice Reporting
Managed Group Call
Zone Page
Mobility – HTML 5 based application for  tablets
Software Architecture
ADC v1.0 Functionality
Break in
Silent monitor
Record
Call preemption
Hold\retrieve
Transfer\conference
Screen lock
Visual alerts
Zone page
Presence
Make calls at the push of a button or a press of the finger

The Power of CSS Aeonix
Easy to use, Touch screen –It is easy to use and administer. The user (dispatcher) seats in front of a touch screen with two (2) physical phones one side of the screen and he decides which one to use. With a press of a button on the screen the user can activate calls, and features and the fact that it is can be used with a touch screen makes the operation quick and easy.
Ergonomic user interface – there was a lot of thought a planning in the design if the screens. The buttons are large and easily viewed. And different colors represent different stages of the user's presence (hold, idle, on a call etc…). GUI has a new look and supports the latest designs of today applications.
HTML -5  – The Dispatch console is the first line of Tadiran products which is using the latest cutting edge technology like HTML5, web services etc…
HTML 5 knows how to fit itself to any device like Tablets, Smartphones etc…
Open and Flexible – Aeonix Dispatch console have more advance integration interfaces and connects to more communication technologies than any other console. We supply or partners /integrates with the appropriate API and development tools which will allow 3rd party applications to integrate with ADC …like a Swiss knife
All operating systems – Can run on all O/S and also in a Virtualized environment
Feature rich – it actually mirrors all the all the features of the Aeonix
ADC v2.0 Enhanced Functionality
Managed conference
Enhanced usability
More buttons
Searchable history
Professional UI
Call forward all
Call forward busy
Call forward no answer
Park/Pickup
Multiple alias per button
Automatic tabbing
Locked buttons
Blocked list
Quick access to all the critical features controlled by the dispatch console
Built-in address book is imported directly from Aeonix
Clustered UC Platform
Distributed Environments
Active Active hot standby
Central and Unified Management
Telephony, Video, Collaboration
Mobility
---