The CSS Telephony System for 
Security Central Stations & more
The CSS Advantage
CSS is pleased to provide the Aeonix Telephony System. Recognizing and understanding a client's needs is paramount in developing a true and complete telephony solution, whether for small, medium or enterprise needs. CSS has established itself as the leader in telephony solutions to the North American Security Industry. With over 30 years of experience with the security industry and understanding the needs in a Central Station environment places CSS as the leader in Telephony and Call Recording Solutions. Each project we accept is carefully orchestrated to insure that each customer's expectations are met and exceeded. To that end we have an experienced and knowledgeable staff, a unique feature set designed specifically for the central station, and a proven business process.
Products and Service
Central Station needs and requirements are not the same as a retail store or an insurance company and CSS knows this. We provide the features needed to streamline operations, increase efficiency, and provide a true redundant environment. Whether we are providing the PRI to Analog conversion for your virtual receivers, automated Two-Way voice management, full automation software interface, or a dynamic telephony solution with IP phones for disaster prevention, our Aeonix telephony solution has no equal. No other IP-PBX system can provide the features of the CSS system.
Multiple Aeonix with 100% up time and 100% 
on a call up time even on a server failure.
1000's of end points with 100+ PRI circuits and 
1000+ analog with "D" channel in DTMF.
Full CSTA interface to all major automation software systems for auto-dial, auto-dial with alternate phone number injection, automated Two-Way voice handling with DTMF control, and inbound call information.
In bound call rejection using ANI at the Aeonix level.
Key Features
Virtual IP-PBX Platform with N+1 redundancy
Multiple servers and/or VM Ware compatible
Multiple PRI & Analog Gateways
CSTA interface to all major Automation software
Blended Alarm and Voice calls over PRI circuits
PRI to Analog conversion to Virtual receivers
IP Telephony for redundancy and mobility
1000+ Analog Circuits to receivers
Desktop call handling with private IM & SMS
Auto-Dialing from automation software & Outlook
Auto-Dialing with dealer phone number injection
Inbound information for account pop to operator
Two-Way voice DTMF management
Automated Two-Way voice management
ANI Call Rejection at the phone switch
ACD Reporting Engine & Contact Center solution
Remote IP phones via the Internet, no VPN
No Geographic restrictions
 The Aeonix Telephony Solution with redundancy Multiple Gateways, IP phone redundancy Multiple locations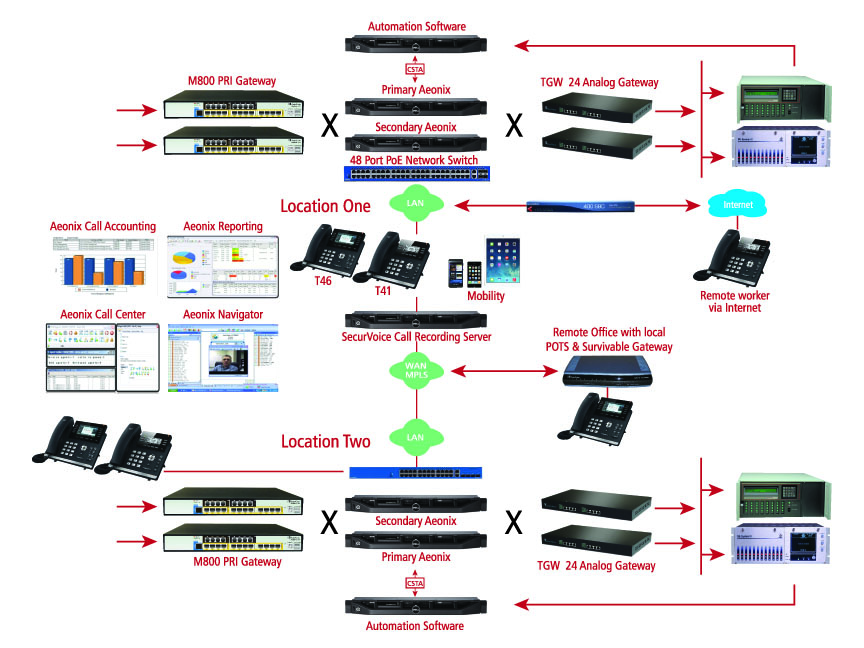 Click to Enlarge
 The Aeonix Telephony Solution with redundancy Multiple Gateways, IP phone redundancy One location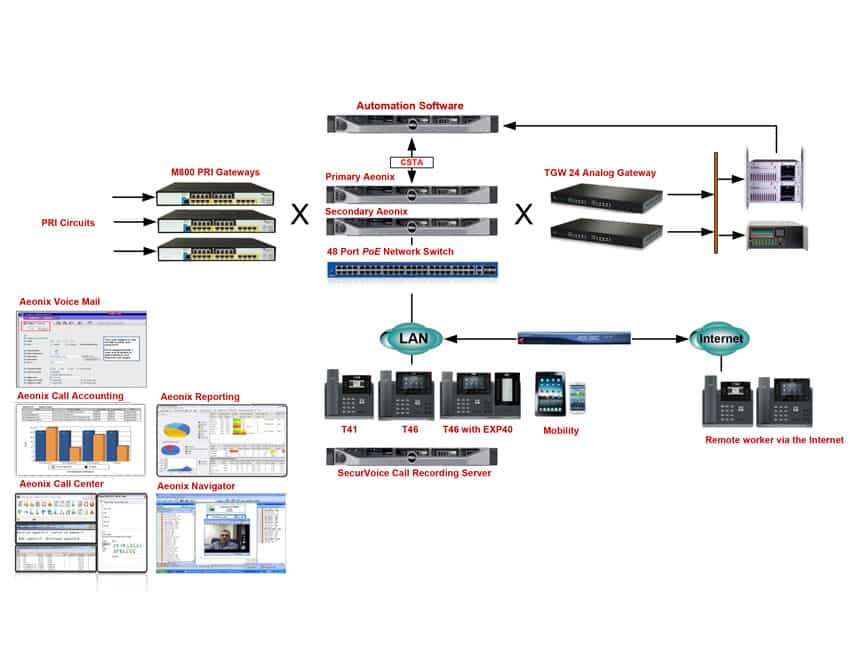 Click to Enlarge
Telephony Architecture
Virtual Telephony Platform with full N+1 redundancy architecture
Linux based Aeonix application with global licensing
Server based or VM Ware based
Networked PRI and Analog Circuits Gateways
Single View Dynamically configurable feature selection
20+ Aeonix servers networked to 100+ Gateway systems
Integrated Voice Mail, Reporting, Contact Center, ACD & Desktop
No Geographic restrictions on architecture, global or cloud
IP Phones
SIP IP Phones with multi line appearance, Color or B/W
Gig phones, Video phones
PoE capability or power module for remote phones (no PoE switch)
High Definition Voice codec
Smart keys with expansion
Soft Phone and SIP mobility options for laptop and mobile devices
Security Industry Features
PRI to Analog conversion in DTMF to System III/IV/V-D6600
PRI to Analog conversion to conventional receivers
Two-Way voice hook flash call transfer from
System III/IV/V-D6600 receivers
Automated Two-Way management to operator via
automation software
DTMF functions and control to Two-Way & PERS via
automation software
Auto-Dialing from Automation software
Auto-Dialing from Automation software with alternate
phone number injection
Inbound call ANI/DNIS to automation software for account
pop to operator
Inbound call rejection via ANI lookup in Aeonix
CSTA interface to all major automation software
IVR interface for automated outbound call notifications
(virtual operator)
Features
Linux based operating system with live update
Full ACD routing and call management to person, people or receivers
Multiple location architecture
Desktop software with call handling, directories, SMS & TAPI
125 party conference bridge
Optional Video conferencing
Voice Mail with Unified Messaging, Auto-Attendant and
Hold notifications
Optional Fax Management, IVR, Call Campaigns and
Hold Time Notifications
100,000+ end point capability
ACD Reporting engine
Live tiled statistical information for immediate action and display
Mobile phone, Desk and remote Desk call routing
Remote IP phones via the Internet, no VPN requirement
Free Agent seating with Operator log-in
1000+ SIP Trunk capability
No Call Loss if switched between multiple Aeonix on server down
Automation Software Interface
Direct CSTA interface between automation software and Aeonix
1st party TAPI interface for auto-dialing
3rd party TAPI interface for automation software TAPI features
SecurVoice™ call recording interface
PoE Managed Network Switches
24 Port— 48 Port Managed Network switches with full
PoE for IP phones
Port Mirroring capability for SecurVoice™ call recording off IP phones
CSTA interface to all major automation software
IVR interface for automated outbound call notifications
(virtual operator)
---