Sur-Gard System 5 Central Station Receivers
Communication Service Solutions, an Authorized Reseller of Sur-Gard central station receivers, presents the Sur-Gard System 5 Receiver. Built to handle the traffic and demands of today's central station environment, the Sur-Gard System 5 is the most technologically advanced central station receiver in the security industry.
Communication Service Solutions is proud to carry the System 5, and like the other products and services we offer, we give you are best. A solution that fits your space, can be configured and scaled to manage a growing account base and will communicate seamlessly with your automation software.
Making your investment future-proof
The new SG-System 5 builds upon the Sur-Gard legacy, maintaining world-leading quality standards in monitoring station receivers. Sur-Gard is known to deliver utmost reliability through features such as integrated redundancy, eliminating the costs incurred by downtime of the system. The new SG-System 5 additionally ensures that the investment in the system is future-proofed by catering to growing system requirements. Up to 1,474,560 IP Cellular or Ethernet communicators can be monitored through upgrade license keys as well as upgradeable memory.
Geared to support innovative alarm verification solutions
SG-System 5 supports industry trending alarm verification solutions such as visual verification, significantly reducing incremental costs that can be incurred by false alarms, while adding to the security professional's RMR.
PIR cameras are strategically installed as part of a security system and are activated
the moment an alarm is triggered. Via the SG-System 5 Receiver, images are sent instantly through to the monitoring facility where the situation can rapidly and accurately be assessed and escalated to authorities, if required, while providing respondents with critical information. SG-System 5 allows Central Monitoring Stations access to visual verification images. In conjunction with compatible automation companies, the integrated software allows for seamless visual verification viewing and increased output that enhances the speed of processing alarm communications.
Smaller Yet Packed With Power
The lean and compact footprint of Sur-Gard System 5 virtual receiver makes space management in receiver rooms easy.
With a reduced overall size of 4U, SG- System 5 offers highest account density per U rack available in the industry.
The built-in redundancy for power and auto- switching assures continuous performance of all peripheral devices connected to the output ports.
The line cards are 'hot swappable' which means they can be quickly removed and/or replaced while the system is live.
The robust CPM has built-in diagnostics that proactively identify any issues and report them to the easy-to-use WindowsTM-based SG-Systems Console software. Continually monitoring the automation software ensures automatic backup to a redundant port. For example, if the automation system goes off- line, the CPM automatically switches from the primary Ethernet port to a secondary one, or to one of two serial ports, before going into manual mode.
Programming changes can be easily made using the menu-driven touch screen or remotely over the network Ethernet connection using SG-Systems Console Software. Firmware upgrades can be conveniently done as they become available via SG-Systems Console Software without additional hardware, eliminating associated downtime. The SG-Systems Console Software also offers hardware diagnostics, monitoring the fan, power, network supervision as well as the overall health of System 5. An intuitive touch screen interface makes navigating through manual programming very simple. Real time system status is also available through this user-friendly touch screen.
The IP line cards – SG-DRL5-IP – support up to 512 supervised accounts, up to 512 visual verification accounts, and up to 3072 unsupervised accounts. Using license keys, two additional standard tables may be added for up to 12,228 per card. Further IP account expansion to adapt to business growth can easily be handled through SG-System 5 extended-capacity license keys with up to 15,360 unsupervised accounts, up to 2,560 supervised accounts and up to 2,560 visual verification accounts, resulting in up to 61,440 per line card and 1,474,560 for 24 lines.
Features
Monitor up to 1,474,560 IP communicators (Cellular or Ethernet) with up to 24 IP line cards and upgrade License keys
Upgradeable memory to handle extensive future IP account capacity
Supports visual verification features for DSC PowerSeries Neo
Industry-leading account density per U rack for a reduced overall size of 4U
SG-DRL5-IP line card with capacity of up to 4,096 (512 visual verification/512 supervised/3072 unsupervised) IP accounts, upgradable up to 61,440 via license keys
Integrated reduncy eliminating downtime
Fully 'hot swappable' modules
Auto-switching redundancy for power and to output peripherals
CMS access to visual verification files through SG-Systems Console
Remote upgradable via SG- Systems Console
Enhanced real time system status and hardware diagnostics via SG-Systems Console and touch screen interface
Specifications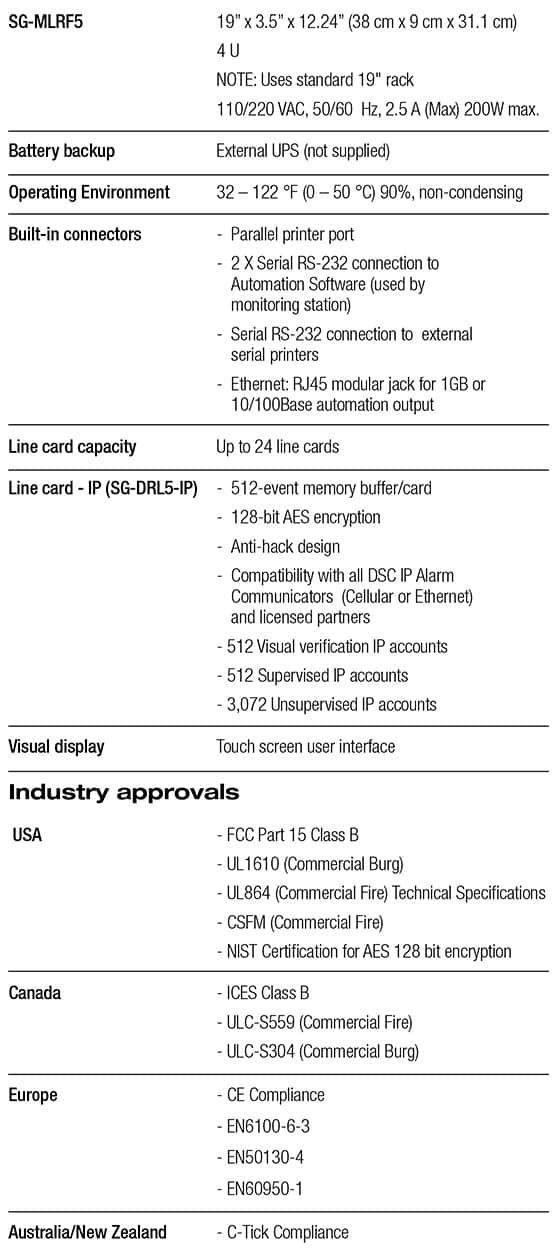 Superior Support Services
On CSS Sur-Gard System III, System IV  and System 5 we provide:
24/7/365 service and remote support
All software upgrades
Equipment replacement
50% discount off any add, move or changes
---